Rose Facts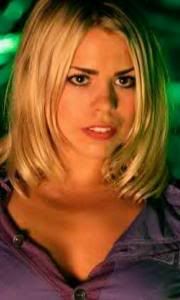 Rose Tyler Fact File
Following Rose's departue from Doctor Who, Russell T Davies toyed with the idea of a spin off show, Rose Tyler: Earth Defence. The show was intended to follow Rose as she worked for Torchwood on the parallel earth. It was given the go ahead by the BBC, but Russell pulled the plug on the idea after deciding it would have ruined the tearful goodbye between the Doctor and his faithful companion.
Pop star Rachel Stevens and actress Georgia Moffatt (daughter of ex Doctor Who actor Davison) auditioned for the part of Rose Tyler! It wouldn't have been the same wihout Billie!
Life On Mars character Sam Tyler was named after Rose! This came about when Life on Mars co-creator Matthew Graham asked his young daughter to suggest a surname for the character, later discovering that she had chosen the name because of Rose. Graham later went on to write the Doctor Who episode Fear Her.
Writer/producer Russell T. Davies frequently uses the surname "Tyler" in his work. A family named Tyler is featured heavily in his Virgin New Adventures Doctor Who novel Damaged Goods, and Davies has created characters named Tyler in other series he has written, including Ruth Tyler in Revelations (1994), Vince Tyler in Queer as Folk (1999), and Johnny Tyler in The Second Coming (2003).