Billie Piper has fought her fair share of demons – on AND off screen.
At just 24, the former Doctor Who star has beaten anorexia and drugs.
But she reveals that despite having a thriving acting career she STILL sees a therapist.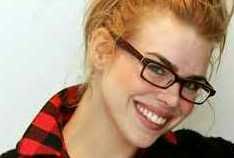 In a searingly honest interview Billie — resembling ex Chris Evans thanks to her new hair and glasses — tells The Sun: "I did therapy for a while and occasionally I still do it if I feel I'm wobbling a bit."
When I ask her to define a "wobble", she says: "I'll do it if I feel I'm losing control and want to start starving myself.
"Anorexia, like any addiction, never goes away — it's always lurking in the shadows. One weak moment and you'll be straight back."
The stunning blonde — who once revealed she ate TISSUES at the peak of her eating disorder — adds: "I read a lot of self-help books, which sounds a bit odd but they are helpful.
"You don't have to take it all on board, you just take what you want from it.
"I've been all right for about two years now. I feel like I'm slowly getting over it, but it takes ages."
But Billie admits: "I hate therapy and find it quite a strange thing but sometimes it can be extremely helpful."
In the past the actress staunchly refused to visit a psychiatrist, saying: "I always think I can deal with things, that I'm strong enough
"I think, 'I've done it before, I've got through it before' and sometimes you just can't. You can read the books or hang out with your mates and you can be fine as long as you have positive forces around you — but sometimes you need professional help."
This week Billie split with boyfriend Amadu Sowe, a law student, and a pal revealed she was still feeling "very raw" about it.
She said in a statement: "I've always tried to shield Amadu from the showbusiness world and public glare that I've learnt to live with over the years.
"I'm afraid that means I'm just not comfortable talking about our relationship or the finer points of it."
However, just days before the romance ended she was happy to chat about her plans to move house with Amadu and still sounded smitten.
The couple had been living in Belsize Park, North London, after getting together following the end of her marriage to Radio 2 DJ Evans in 2005.
She had famously boasted that Amadu was an expert at tantric sex but blushed: "I am so over that now! He's good, everything's good between us. He's dreamy."
Billie even outlined plans to look for a new home with a garden, grinning: "Not a big one — I really hate manual labour!"
But there was another split on her mind too. Billie and Chris are still in the middle of a divorce — although she has already said she doesn't want anything from the multi-millionaire.
Of course, I have to ask about the impact her starring role in Doctor Who had on their marriage.
Billie confesses: "It was hard. We went from being an inseparable couple to a couple who didn't really see each other. But when people say Doctor Who ruined my marriage, I say 'B******s!' It didn't.
"Sometimes relationships run a natural course, and with Doctor Who or not, I think it still would have happened. I'm happy I married Chris and happy we're now soulmates without being lovers.
"We're just proper mates. That's what I want from Chris — the ultimate friendship. I don't feel like I've lost anything, I feel like I've only gained."
Billie goes on to give a frank insight into the eating disorder that started after she became a pop star in her early teens.
She had her first No1, Because We Want To, at 15 and the pressures to stay on top and look good caused her to become hooked on laxatives.
The young singer became so thin she stopped menstruating and she admits she came close to taking an overdose after finding herself alone in a hotel room in Chicago seven years ago. But at the last minute she decided to ring her parents and ask for help instead.
Within a year, Billie quit her pop career after meeting and swiftly marrying Chris — 16 years her senior. And despite problems, the controversial marriage was credited with putting her back on the straight and narrow. Yet when the couple split amicably four years later, Billie went back to starving herself.
Today she stresses: "I feel really all right now."
As a recovering anorexic, Billie feels strongly about role models for youngsters.
She recently hit out at the latest craze for skinny celebs and told how she had failed to get her 13-year-old sister Ellie to look up to curvy stars rather than stick-thin ones.
She says: "The whole size zero debate is disgusting." Billie reveals her own eating disorder started "out of a lack of control", explaining: "When everything's ****** . . . it's the only thing I can control."
I ask if she blames her record company and management for putting her into the spotlight so young — and handing her a £1million contract at 14.
But Billie insists: "I don't blame them, I really loved the people who signed me. I don't have any bad feelings towards them and why should I?

"We knew what we were getting involved in, maybe them more than me.
"But I told them, 'I will work my a**e off. How can I get a No1?' If it wasn't for them I wouldn't be doing this, so how can I blame them?"
Billie, whose autobiography Growing Pains is on sale now, admits she would think twice about putting any child of her own into showbiz.
The former stage school kid says: "I don't think I'd want them to get involved until they were slightly older. But it's hard if they have this burning ambition.
"If anyone had told me to stop, I would have replied, 'Forget it.' "
She adds: "It's hard being a parent — I'm going to wait for a bit. The more I hang out with my brothers and sisters, the more I think I just don't know if I could handle it — it's stressful."
Billie agrees that her life has been "a bit bleak in places" but says: "I had to go through all of those things to be in the situation I'm in today, which is a good one. I don't regret any of it. I've dealt with most of those issues. I don't have nightmares about it and it doesn't make me sad any more."

She ponders for a moment about her unusual adolescence but adds: "I don't know if in years to come I'll be thinking, 'I did miss out on my childhood.' But at the moment I really don't feel that."
After quitting Doctor Who earlier this year, Billie will soon be back on our screens playing another gutsy heroine Sally Lockhart, in Philip Pullman's The Ruby In The Smoke.
Next year she stars in Jane Austen's Mansfield Park, playing Fanny Price. She beams: "So much has happened this year, but what's great is I've managed to enjoy everything. I've not been hurtling through my life with no direction. When I was singing I always felt like that. I've never let my career dictate my personal life — which is why I feel OK at the moment.
"Mostly I've managed to keep the friends that I've had. I fell out with my family for a bit but that's been resolved now — it's all fine.
"I feel a bit more in control of my life than I ever have done — that's a great feeling, I'm really happy about it."
Source: The Sun : December 2006