23/03/2007 - Martha Madness
The Doctor Who launch party was on Wednesday night in London and since then the press and fans have gone Martha mad!!
We have lots of new photos of Freema from the press launch and some caps of her chatting to BBC News as well as new promotional stills of Martha in the image archive
here
.
You can watch a video of Freema at the launch
here
courtesy of BBC News.
And the Stage have a podcast from the Q&A session
here
.
To read all about the press launch visit the
Articles
section.
23/03/2007 - Smith and Jones Preview
If you're a Doctor Who fan and you're in Wales then you could be watching a preview of Smith and Jones!
The first epsode of the new series will be exclusively screened on Saturday, 31 March at 10.30am at a number of venues across the principality.
Tickets are available on a first come, first served basis from 9am on Monday, March 26 by calling 08703 667 887 (Calls from a BT line cost up to 8p per minute. Some operators and mobiles vary and calls may be recorded for training). Tickets will not be available before this date.
BBC Radio Wales and BBC Radio Cymru will also be giving listeners the chance to win a ticket when a small number are released as competition prizes
The Venues are:
Odeon cinema in Cardiff, Swansea and Wrexham
Aberystwyth Arts Centre, Aberystwyth
Neuadd Dwyfor, Pwllheli
23/03/2007 - Freema In Company
Freema is featured in the current issue of Company magazine discussing her favourite outfit.
You can read the article
here
.
21/03/2007 - New Forum & Avatars


Our
forum
is now online so you can chat to other fans of Freema and we have added some new avatars of Freema for you to use on there in the download section. To view them all click
here
.
21/03/2007 - Photo Updates
Lots of new photos have been added to the gallery.
21/03/2007 - New Interviews
We have added a lot of new interviews in which Freema talks about her new role as Martha Jones.
To read them all click
here
.
21/03/2007 - Official Air Time Revealed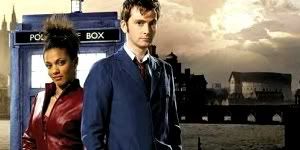 Click the pic to enlarge!
The Official BBC Doctor Who Site has a fabulous new look, showcasing the many places that Martha will visit with the Doctor in the new series.
They have also confirmed that the new series will start at 19:00pm on Saturday 31st March!
21/03/2007 - Freema On Totally Doctor Who
Freema will be a guest on the first episode of the new series of Totally Doctor Who.
The series begins on Monday 2nd April at 17:00pm on BBC One.
17/03/2007 - New Martha Promo Photo
Click pic to enlarge!
The BBC have released the above photo of Freema as Martha Jones.
17/03/2007 - Freema Interviews In The Press
There are interviews with Freema in today's issues of The Sun, The Daily Star and The Daily Mail.
There is also a small article in the April 07 issue of Marie Claire, so make sure you grab your copies!
17/03/2007 - New Trailers
There are two new trailers for Doctor Who airing on the BBC from tonight.
13/03/2007 - Welcome to Freema-Agyeman.net
Welcome to the new look Freema-Agyeman.net. Some of you may have visied our old site, but we've given it all a make over and started from scratch with everything.
We will be keeping you up to date with all things Freema and Martha so stick with us because things look set to get very exciting very soon!
13/03/2007 Radio Wales Q&A
Rado Wales want your questions to ask Freema and David Tennant for a special Doctor Who show.
They say:
Radio Wales' totally Doctor Who show Doctor Who Back In Time will return on Saturday 30 March, with 'New Rose' a special thirty-minute episode previewing season three of Doctor Who and focussing on his new companion Martha Jones.
There will be another programme looking at the unique Welsh contribution to the show and the effect Doctor Who has on Wales through boosting the local economy and offering opportunities to Welsh talent. The final show of the run will be Interrogation where the fans set the questions.
Interrogation
Doctor Who Back In Time wants your help to make the next series. We want your questions for the cast and crew for a special one-off programme called Interrogation, where the fans take over and get to ask all the things you've always wanted to ask about Doctor Who.
You can quiz David Tennant, Russell T Davies, the stunt men, the people who make the monsters, the special effects team... anyone you like.
All we need you to do is to email us your question, tell us who you want to answer it and then leave your name and address and a contact email. If you are one of the lucky inquisitors selected we'll try to record you asking your question and get it answered on air.
Click here to submit your questions and find out more!
13/03/2007 - Two Worlds Will Collide
Click a pic to enlarge!
It's nearly time for the new series of Doctor Who and things are starting to get very exciting now with the new season trailers airing for the first time on BBC One on Saturday.
13/03/2007 - Creatures And Demons
Click pic to enlarge!
BBC Books have revealed the cover of the forthcoming Doctor Who book Creatures and Demons.
The books is the follow up to the highly successful Aliens and Enemies and Monsters and Villains.
It is published on 10th May 2007 and is availble at a special pre order price from our shop
here
.
13/03/2007 - The Doctor And Martha On SFX Cover
Click Pic To Enlarge!
The new issue of SFX (Out Wednesday 14th March) features the Doctor and Martha on the front cover and inside it's packed with Doctor Who new series info!
There's a six page special which includes an interview with Russell T Davies in which he reveals his guide to the new episodes and even your fridge can get a Who makeover thanks to some snazzy free magnets!
Plus there's a Doctor Who SFX Special coming at the end of March!
They're not to be missed!
13/03/2007 - Doctor Who Adventures
More fun for younger fans is guaranteed with the new issue of Doctor Who Adventures (Wednesday 14th March) including an exclusive new interview with Freema Agyeman.
"My first day on set was without David Tennant," says Freema. "It involved walking through corridors and taking notes. Martha had arrived!"
"She's very independent," Freema continues. "Martha lives on her own and you get the sense that the Doctor interrupts her life! She's spent a very long time training to be a doctor herself – and is close to qualifying."
We find out what it's like to be the new girl aboard the TARDIS, and ask Freema if she thinks Martha and Rose would get on if they met.
Also this issue:
* Cool competition! – Want to win a life-size Dalek Sec? Don't miss part one of a special competition to win a brilliant black Dalek!
* Preview – There's a full preview of the first episode Smith and Jones with exciting photographs from the new adventure.
* Monster facts – Oodles about the frondly aliens called the Ood.
* Comic strip – Will the Doctor escape the hungry plants?
* Make it! – Find out how to build a Dalek dome so you can exterminate your friends.
* Quiz – Discover if you've got what it takes to travel in the TARDIS by taking our companion quiz.
* PLUS posters, puzzles and adventure on every page!
This issue comes with a free Dalek or Cyberman camera – choose your favourite monster or collect both! There's also a bonus wall chart to prepare you for the return of Doctor Who.
13/03/2007 - New Doctor Who Publicity Still Released
Click pic to enlarge!
The BBC have released this new publicity still of the Doctor and Martha and by the looks of things the new series will be back with a bang! For further info visit
www.bbc.co.uk/doctorwho