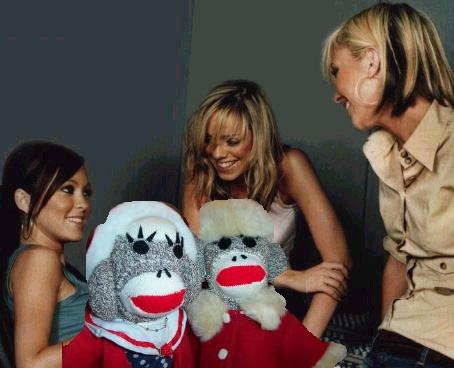 It was 1999 when Atomic Monkey first formed, having successfully got rid of the mouthy one from Warrington, Milly and Maisy Monkey auditioned for a replacement.
"Jenny had been a close drinking pal of mine for many, many years, we often used to hang around bus shelters in Chorley together, swigging from a bottle of Aldi cider" Says Maisy.
"Jenny seemed like the natural choice, she was a great talent, and could hold her ale!"
After touring with many top acts such as Boyzone, "No Ronan and I didn't have an affair!" says Milly keen to put the record straight, and Steps "Lee and I did have a dalliance, but it were nothing serious! I always preferred H!" Atomic Monkey released their first album. "M is for Monkey"
But soon cracks began to appear in the glittering groups' relationship. "Natasha always thought she had to sing leads" says Maisy a little bitterly.
"She thought she was the only one who had the talent, when obviously it was myself and Milly who were carrying the other three!"
It was after a gig at the Blackpool Working Men's Club that things really came to a head.
"That Liz had been wearing my purple sparkly boob tube on stage and when she gave it back it stank! I was disgusted as I wanted to wear it on a date with Darius Danesh who had got a National Express coach to see me!" explains Maisy. "He may well have also wanted to visit the arcade, but he made a special trip to go out with me!"
"It wasn't all bad though as you did win a gold fish" chips in Milly.
After a big bust up backstage, which has been well documented, the girls decided to go their seperate ways and embark on solo careers.
"We decided we may as well be a duo as we had already recorded an album together of own material whilst the band where still together. That did cause problems with the others who said we had purposely caused a fight just to split the band and further our own egos and career! But that's just not true, everyone knows we were the talented ones anyway!" say the girls.
Relaunched as The Monkey Twins, Maisy and Milly went on to have chart success with their debut single "PJ" a song about their favourite Byker Grove character!
"We were deeply moved by the blinding storyline were Dec splashed paint in his eyes!, it's amazing how well he copes, we saw him at the National TV Awards and he didn't even need a guide dog! Mind you he does have Dec to help him, the little fella is good like that, they're very close, a bit like us."
Nothing could prepare the gals for the success of their next single, "Whoops Pardon".
"It were the first time we had tried our hand at penning our own lyrics, people were amazed by the success and adulation we got from this track, we weren't though, we knew it were a cracker!"
The dance routine to "Whoops Pardon" is now universally recognised and can often be heard at office parties were extremely drunken people dance to it before photocopying their arses.
A tour with Daniel Bedingfield supporting them followed and the girls were so pleased when he provided vocal beat boxing on their track "Who's A Monkey?" "We really wanted Craig David, but he were busy knitting a new hat" says Maisy impishly.
"We did ask for Natasha Bedingfield but someone sent us him" says Milly.
Thier debut duo album "Whoops Pardon" named after the title track, went multi platinum in the UK and Iceland.
"I thought it were just a supermarket until the album went to No.1" says the geographically challenged Milly.
"Kerry Katona were in me class at school and we used to draw silly faces on the popstars in Top Of The Pops magazines" she adds. This explains a lot.
It was in 2002 that Maisy announced she would be quitting the duo to marry Spike from 911. Sadly things didn't work out as she tearfully explains.
"I didn't realise that he would go bald! He told me he were only 27 that's 10 years older than what I am!"
Luckily Milly was there to help pick up the pieces and she arranged for her friend to go into The Priory.
"I didn't need to go in, I had no addictions, but it is the done thing ain't it!"
After being thrown out of rehab 12 hours later the girls decided to reform and hit the road, a brand new album followed and Maisy found love with Nigel Harman who managed to get her a cameo role in the soap, EastEnders, as a long lost Slater sister.
2004 saw Milly tying the knot with Pop Idol winner Will Young. The relationship has been plagued by constant rumours of Will's sexuality.
"The fact of it is" explains Milly, who is holding a photo of Will in a heart shaped lime green faux fur frame close to her heart, "Will and I have just have so much in common. He loves grey hound racing and so do I, he likes to eat pork pies and so do I and we both fancy the pants off David Beckham, it's a match made in heaven."
In 2004 the girls took time out from their busy schedules to concentrate on their own projects, but insist they are NOT splitting!
"We're like sisters, twins even" says Maisy. "There's a unique bond between us, a contract in fact. The fact that we're legally obliged to stay to together and release three more albums doesn't matter though, we'd still be doing it even if our manager didn't threaten us will legal action!"
This year the girls are heading back into the studio to release a revamped version of their Greatest Hits album.
"The recording is going well, we've layed down the vocals for "Whoops Pardon" and we're hoping to get Missy Elliot in to re work it, she's a big fan of ours" reveals Milly.
"Will is even getting in on the action as we're going to release "Three Times A Monkey" together with a bit of luck."
So things are going well for the girls, Milly is happily married, Maisy is happily single and their careers are taking off again...watch this space!