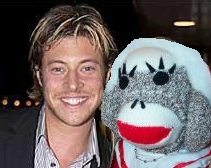 Name: Maisy Monkey
Age: 17
Date Of Birth: 17th April 19..er..hang on. How old did I say I was? 17 Oh erm 1987???
From: Up North.
Fave Hobby: Arrows.
Fave Song: Anything by The Monkey Twins.
Fave Celeb: Me, oh er Duncan from Blue.
Fave Food: Chips and Curry. I'm on the Kerry Katona diet.
Best Friend: Abi Titmuss.
Fave Item Of Clothing: My Fez.
Most Embarrasing Moment: I once accidently knocked Posh Spice under the wheels of a passing golf buggy! Ooops!