Site Update!
30/08/2006, 18:42pm BST
Billie Misses Who!
According to
The Metro
Billie is already missing life in the TARDIS:
'I don't know if I can watch the new series without me to be honest, as I loved the role and now I am out of it think, how can he like anyone but me?'
Billie Set To Appear With Wossy!
Billie is scheduled to appear as a guest on the new series of The Jonathan Ross show. Episode dates are not known yet but we will keep you updated!
Site Update!
28/08/2006, 19:08pm BST
Billie On The Box!
Here in the UK BBC Three continue their repeats with The Satan Pit and Love & Monsters tonight. The channel will continue to show an episode a night until the end of August.
The Doctor and Rose will be meeting up with Queen Victoria and battling a Werewolf as Tooth and Claw will be showing on ATV World in Hong Kong tonight.
New Earth shows on French speaking channel Ztele in Canada on Tuesday.
In New Zealand Thursday 31st August sees the TARDIS landing on The Impossible Planet, the first of a two part story that takes Rose further than she has ever gone before!
And on Saturday 2nd September Australian fans can catch up on the action as ABC also shows The Impossible Planet!
Site Update!
21/08/2006, 19:26pm BST
The V Festival
Billie attended the V Festival this weekend and met up with her Doctor Who pal David Tennant, pictured above.
She also managed to get herself stuck in a portaloo!
"I was locked in for ages. I had to bang on the door to get someone.
I really didn't want to touch anything...gross. It was like being in the Tardis but smaller and smellier."
Thanks to Sue for the photo 1 and Virgin for photos 2 & 3 .
The Ruby In The Smoke Book Cover
Click Pic To Enlarge!
The Phillip Pullman novel The Ruby In The Smoke has been re merchandised to tie in with the new BBC production. Billie will appear on the cover of the new edition as the leading character Sally Lockhart.
Rose Tyler: Earth Defence
Plans for a Doctor Who spin-off show starring Billie Piper were scrapped at the last minute, series producer Russell T Davies has revealed. "It was actually commissioned by the controller of BBC One and budgeted," the writer told Doctor Who Magazine. Davies later decided the programme, Rose Tyler: Earth Defence, was "a spin-off too far" and called it off. Piper, 23, left Doctor Who earlier this year. She will be replaced by Freema Agyeman, 27, in the next series. "We hadn't formally approached Billie," said Davies, "although we'd mentioned it to her."
"It was going to be fantastic. We'd have had a lovely budget and done brilliant things with it, maybe one Bank Holiday special a year." However, the writer said he got cold feet while filming Piper's final appearance as Rose Tyler earlier this year. A separate spin-off, Torchwood, stars John Barrowman as Captain Jack
"It spoils Doctor Who if we can see Rose... if we see as a concrete fact that her life continues to be as exciting without the Doctor," he said. Davies added that the decision to abandon the programme cost him "a fortune". A separate spin-off from the science fiction series is still going ahead, and will be shown on BBC Three this autumn. Called Torchwood, it focuses on a squad of secret agents facing human and alien enemies, with actor John Barrowman reprising his role as time traveller Captain Jack. The 13-part series will also be written by Davies, who acts as executive producer for the Doctor Who programmes. Meanwhile, the third series of Doctor Who is currently being filmed in Wales.
My Fair Lady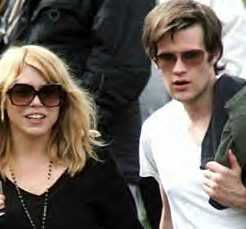 Click Pic To Enlarge!
When Billie Piper met up with her former husband at a village fete over the weekend it was nothing but the friendly scene that fans have come to expect from the duo. Chris Evans, whom the pretty Doctor Who star describes as her "best friend", even had a big hug for his ex's handsome mystery companion.
Billie, who turns 24 next month, was opening the Hascombe village fete in Surrey where the ex-Big Breakfast presenter was enjoying the festivities with his former Virgin radio co-host Harriet Scott. Sporting the current gothic trend in top-to-toe black, Billie looked relaxed, holding hands with her friend as they walked around the attractions at the local fair.
Despite the affectionate display, the award-winning actress, who is known for her tactile nature, already has a beau in the form of law student Amadu Sowe. She has also made no secret of her continuing closeness to Chris, whom she wed at the age of 18 in a Las Vegas ceremony in 2001. They own houses opposite each other in North London and have been spotted walking their dog together on Primrose Hill.
Its been a successful year for Billie whose career has gone from strength to strength since she hit the small screen as Dr Who's assistant Rose Tyler in the popular sci-fi series. After leaving the tardis behind, she has travelled back in time again to play the role of feisty Victorian heroine Sally Lockhart in the BBC drama The Ruby In The Smoke, due on screen at Christmas, and is set to star in a remake of Jane Austen's Mansfield Park.
At the tender age of 23 she is also busy writing her autobiography which is expected to reveal details of her three-year marriage to Chris. And he's apparently keen to have an input. "As soon as he heard I was writing it he said: 'I've got this great idea for the foreword'," she has revealed.
Source: Hello!
Site Update!
20/08/2006, 16:53pm BST
Billie On The Box!
BBC Three are currently repeating Doctor Who Series Two. There is more or less an episode a night, with Tooth and Claw airing tonight, but if you check
The Diary
you will find full details and show times.
New Earth airs in Hong Kong tomorrow, Monday 21st August, on ATV World.
The French dubbed version of The Christmas Invasion will show on Tuesday 22nd August in Canada.
Thursday 24th August sees New Zealand fans travelling back to the 50's with the Doctor and Rose in The Idiot's Lantern and Australian fans can join the fun on Saturday 26th August when they get The Idiot's Lantern too!
DVD Details!
Click Pic To Enlarge!
Volume 5 of the Vanilla DVDs will be released on Monday 4th September. The disc will include the following fabulous episodes:
Fear Her
It's London 2012, and the Doctor and Rose set off to see the Olympics, only to find terror in the most ordinary place.
Army Of Ghosts
The Doctor and Rose are drawn to the Torchwood Tower, but a mighty invasion force is ready to march.
Doomsday
As two mighty armies clash, the Doctor realises that saving the Earth might mean the death of Rose Tyler.
Site Update!
17/08/2006, 15:52 pm BST
Mansfield Park Filming
Billie will start filming for her latest project, an ITV adaptation of the Jane Austen classic Mansfield Park, next month. Billie will take on the role of Fanny Price and will head off to North Yorkshire to film the period drama at the stunning Newby Hall. Filming is likely to take three months and the drama will air on ITV in 2007.
Who's On The Box
Doctor Who Series Two continues with the second part of the Cybermen story, The Age Of Steel airing in New Zealand tonight at 19:30pm on Prime TV. Australia get the same episode on Saturday at 19:30pm on ABC.
Good news for USA followers as the Sci Fi Channel have anounced that Series Two will premiere there on 29th September. (Thanks to everyone who contacted us about this!)
Series Two will also start on Ztélé in Canada on 29th September with the episodes being dubbed in French! And non French speaking Canadians can tune into CBC from October to see Series Two.
Meanwhile back in the UK BBC Three are preparing to show repeats of Series Two from this Saturday.
Site Update!
13/08/2006, 15:19pm BST
Billie's A Leading Lady
Click Pic To Enlarge!
Billie took a break from her hectic filming schedule to take her pet pooch out for an airing on Friday.
She was accompanied by her close pal and ex Chis Evans.
Site Update!
10/08/2006, 17:14pm BST
Mag Stand
Click to enlarge!
DWM have released the details of their latest publications as follows:
Doctor Who Magazine #373
Doctor Who Magazine begins a no-holds-barred interview with the man at the very top ­ executive producer and head writer Russell T Davies. Russell chats to DWM about the impact of Series Two, the imminent coming of Torchwood The Series, and the Doctor Who spin-off that never was...
"The greatest thing for me is that Doctor Who is no longer a phenomenon," Russell tells DWM. "The first year was brilliant, and exhilarating, but terrifying, because it felt so mad to have Doctor Who back, being the BBC's flagship drama. Everyone was talking about it. And it was awful to think that it might be a flash in the pan. We were all determined for the second year ­ especially with David Tennant on board, cos Chris Eccleston had been so brilliant ­ that we couldn't let it expire. Not that it would have been David's fault, but what if the show had dwindled naturally, with his face on it? To see the climax get one-and-a-half-million more viewers than last year makes you think, yeah, we've done it. The fear and the wonder of it being a one-off hit has gone now. I think we're guaranteed that Doctor Who will last, and last as a brand..."Also this issue, Russell writes an exclusive and revealing article detailing the secrecy surrounding Billie Piper's departure, Freema Agyeman's casting as Martha, and the shock arrival of Catherine Tate as the Runaway Bride...
Meanwhile, DWM reunites Noel Clarke (Mickey Smith), Camille Coduri (Jackie Tyler) and Shaun Dingwall (Peter Tyler), for a chat about their characters' thrilling exit in Doomsday; Murray Gold speaks out about scoring the music for the series; the second part of the brand new comic strip adventure The Futurists; The Time Team looks back over the entire Fourth Doctor era as well as the festive special K9 & Company; plus all the latest news in Gallifrey Guardian; reviews in After Image and Off the Shelf, and a bumper DW Mail. DWM 373 is on sale from Thursday 17 August.
The Series Two Companion
Your complete guide to the BAFTA-winning BBC One series!
Written and researched by Andrew Pixley. In 2006, Doctor Who maintained its position as one of the most popular and critically-lauded programmes on British television. Eight million viewers tuned in every Saturday evening for the adventures of the Doctor and Rose Tyler, as they sailed through time in the TARDIS. Their travels have taken them to the distant past, parallel worlds, the far-off future and an impossible planet ­ for an encounter with the devil himself... Now, Doctor Who Magazine takes you behind the scenes on this incredible series, with an in-depth episode-by-episode guide to all of this year's adventures, including original storylines, deleted scenes, and thousands of facts about the making of the series ­ illustrated with never-before-seen photographs. We cover all 13 episodes of Series Two, plus The Christmas Invasion, the Children in Need mini-special, interactive adventure Attack of the Graske and the Tardisodes, as well as features on BBC Three's Doctor Who Confidential and CBBC's Totally Doctor Who.
Plus, for the first time anywhere, executive producer and head writer Russell T Davies presents his original Series Two story document, fully annotated with the changes that were made during production. Discover the origins of the Runaway Bride, how a Werewolf turned up very late, what inspired the redesigned Cybermen and why the TARDIS never stopped off in the 1920s! This is the essential time-travellers' guide to Doctor Who. If you think you've seen it all, think again... On sale Thursday 10 August.
Who's Coming To The USA?!
The SCI FI Channel and BBC Worldwide Americas have confirmed that Doctor Who will return to SCI FI in September 2006. The run will kick off with a two-hour premiere package that will include David Tennant's debut, The Christmas Invasion. Chris Regina, Vice President of Programming, SCI FI Channel, said "Our audience has clearly embraced 'Doctor Who' and it has delivered a significant increase in viewers in the time period. We are looking forward to keeping the momentum going with David Tennant as the new Doctor." Executive Producer and Lead Writer Russell T Davies says, "We were delighted by the first season's success in the US, and can promise new thrills, new laughs, new heartbreak, and some terrifying new aliens in Season Two." The first season of the new Doctor Who proved a huge success for the SCI FI Channel. We'll let you know the exact premiere date just as soon as it's announced.
Site Update!
09/08/2006, 15:52pm BST
Who's On The Box
Series One continues to air in The UK with an episode a night repeated on BBC Three. World War Three will air tonight at 19:00pm. Check
the diary
for details of the other episodes that will be shown and for Doctor Who Confidential Details.
Meanwhile Series Two continues in New Zealand on Thursday 10th August with The Rise Of The Cybermen. This episode will also air in Austrailia on Saturday 12th August.
Series One repeats end in the USA on Sunday 13th August when The Parting Of The Ways airs.
Series Two is expected to start on the Sci Fi Channel at the end of September 2006.
Site Update!
02/08/2006, 16:48pm BST
Billie Speaks About Her New TV Role
Billie Piper has spoken out for the first time since she left Doctor Who. The actress was being interviewed by the BBC's Breakfast show, and said she thought the Doctor's new assistant would handle the job "perfectly".
Billie said Freema Agyeman "is in good company. She's got the wonderful David Tennant. She'll handle it."
She was filming for her new series, The Ruby in the Smoke, by Philip Pullman, set in Victorian London, which she said was "quite gritty, quite dark".
But if she thought she'd be having a comfortable time, like she had with Rose Tyler's casual costumes, she was wrong. She said: "I've got a corset, three petticoats, a cage, a bustle - the bit that kicks out at the back, it makes you look booty-licious as they say. "It only takes 10 minutes to get into, but the hair and make-up does take a while."
Billie's Sad Exit
The following article appears in today's Daily Record:
Billie Piper sobbed and downed a bottle of wine as she watched her exit from Doctor Who. Eight million viewers saw her character Rose Tyler leave the BBC sci-fi series three weeks ago. Billie, 23, said yesterday: "I watched the last episode myself on transmission, which I never normally do. "I made everyone leave the house. I got a bottle of wine in and got very drunk and got very sad. "Yes, I cried my eyes out. It's really sad."In her final appearance, Rose and the Doctor, played by David Tennant, were separated when she was dragged into a parallel universe. On her decision to quit, Billie said: "I want to try different things. I think it felt like an organic decision. It just feels like the right time." Rose is being replaced by Martha Jones, played by Freema Agyeman, as the Doctor's assistant in the third series next year. Billie said: "She'll be fine. I think she's in very good company. She's got the wonderful David Tennant and she'll handle it perfectly." Comic Catherine Tate will star as runaway bride Donna in the Christmas special before Freema's debut as Martha. Billie is filming for her lead role in BBC costume drama, The Ruby In The Smoke. She said: "I've been wearing three petticoats, a cage and a bustle. The bustle kicks out at the back - it's what helps make you look bootylicious, as they say." She plays sleuth Sally Lockhart, who is on a mission to uncover the truth ab out her father's death. In May, Billie signed a six-figure contract to write her autobiography. It will be in the shops for Christmas.
Billie On The Box!
The Girl In The Fireplace airs in New Zealand on Thursday 3rd August and in Australia on Saturday 5th August.
Here in the UK BBC Three will start repeats of the entire first series from this Sunday 6th August with Rose and The End Of The World showing as well as the Doctor Who Confidential show, Bringing Back The Doctor.
In the US Much Ado About Nothing will air on BBC America on Sunday 6th August with Billie taking the role of Hero in this modern time adaptation of the Shakespeare classic. And on the same night she's back to being Rose over on the Sci Fi Channel for the Doctor Who episode Bad Wolf.