Site Update!
24/09/2006, 12:19pm BST
Billie Talks About Her Teenage Traumas
Billie has revealed, in her new autobiography that she has battled with the slimming disease Anorexia for years. Even admitting that she hates to look at photos of herself to this day. She also reveals that she almost committed suicide in a hotel in Chicago:
Doctor Who star Billie Piper told last night how she battled slimmers' disease anorexia.
Billie, who was 24 on Friday, said she stopped eating for days at a time, living on Diet Coke and cigarettes. And she became addicted to laxatives.
Between the age of 16 and 17 she was so thin she stopped menstruating.
Billie said: "I didn't feel qualified or ready to talk about it until I was really, really well this year."
She said that when she signed a £1m recording contract at the age of 15, she lived in fear of not reaching Number One and not hitting a note.
And while alone in a hotel in Chicago in 1999 she came close to suicide.
But though her marriage to Chris Evans failed, she said it was instrumental in her recovery from anorexia: "I couldn't have not eaten when I started seeing Chris. It's impossible not to enjoy life with him."
When she split up with Chris her anorexia returned for four months.
But now she doesn't fear a relapse and added: "I go for days without worrying about food."
Source: The Sunday Mirror
Former Dr Who girl Billie Piper has admitted she nearly killed herself when she was 16. The ex-wife of DJ Chris Evans says she was in Chicago soon after topping the British charts when she thought about swallowing a bottle of pills. Billie, now 24, says she considered suicide because of pressure on her to succeed and her anorexia slimming obsession. But in stead she phoned her parents and begged to come home. In her new autobiography Billie says: "I didn't feel qualified or ready to talk about it until I was really, really well this year. "I still hate looking at pictures of myself."
Source: The People
Billie On The Box!
Here in the UK you can catch up with Totally Doctor Who today on the CBBC channel. BBC Three are also continuing their run of Series Two throughout the week.
Monday 25th September sees The Age Of Steel premiere in Hong Kong on ATV World.
On Tuesday 26th September the Cybermen arrive in Canada as The Rise Of The Cybermen shows on Ztele.
It's almost over in New Zealand as Thursday 28th September heralds the beginning of the end for Rose Tyler with Army Of Ghosts airing on Prime TV.
Friday 29th September is an exciting day for all USA fans as the Second Series premieres on Sci Fi with a double bill of The Christmas Invasion and New Earth!
Saturday 30th September sees Australia getting the first part of the series finale when Army Of Ghosts airs on ABC.
Check
The Diary
for show times etc.
Site Update!
22/09/2006, 16:43pm BST
Happy Birthday Billie!
Everyone at Billie-Piper.net would just like to wish Billie a very happy 24th birthday!!
Your Fave Clips Online!
The results of the BBC survey are in and you can now watch all your favourite clips from Series Two of Doctor Who on their website!
You can also read reviews of the three new Doctor Who novels on there!
Site Update!
20/09/2006 17:09 pm BST
Granada Distribute Mansfield Park!
Granada International has picked up the distribution rights to Company Pictures' new adaptation of Mansfield Park. This new version of Jane Austen's classic tale of love, betrayal and the agonies of the Regency class system, adapted by Maggie Wadey (Adam Bede, Precious Bane), will star the award-winning Billie Piper (Dr Who, Much Ado About Nothing) in the lead role and will be produced by Suzan Harrison (Elizabeth I, The Rotter's Club). Filming of Mansfield Park will start this month and it will air on ITV1 in 2007 as part of a series of Jane Austen adaptations. "We are delighted to be representing this brand new adaptation and to be working with Company Pictures," says Noel Hedges, the head of drama and comedy at Granada International. "The casting of Billie Piper in the lead role is inspired. I am sure her inclusion in the drama will increase the appeal of Jane Austen's work to a younger and wider audience than ever before."
Billie On The Box!
Here in the UK BBC Three start repeating Doctor Who Series 2 again tonight showing two episodes, New Earth and Tooth and Claw back to back from 19:00pm. They will be showing an episode most evenings so check
our diary
for further deails of show times etc.
In New Zeland, Thursday 21st September sees the Doctor and Rose travelling foward in time to 2012 and the London Olympics, where they discover terror in the most ordinary of places in the new episode, Fear Her. And Australian fans will get to see the same episode on Saturday 23rd September.
Site Update!
12/09/2006, 17:40pm BST
New Gallery!
We have a new style gallery which has launched today. It already includes over 700 photos of Billie and we haven't finished yet! It will be constantly added to and you can even help us as it has a way for you to upload your favourite pics!
Billie On The Box!
Here in the UK BBC Three continues to air repeats of Series One. More details of episodes and times can be found in
The Diary
.
A meeting with old pals is scheduled for the Doctor tonight as School Reunion shows on French speaking channel Ztele in Canada on Tuesday 12th September.
In New Zealand Thursday 14th September sees the first showing of Love & Monsters, telling the story of an ordinary man who becomes obsessed with the Doctor and Rose, and uncovers a world of living nightmares.
And on Saturday 16th September Australian fans can catch up on the action as ABC also shows Love & Monsters!
Monday 18th September sees the Cybermen arrive in Hong Kong with the premiere of The Rise Of The Cybermen...
Site Update!
09/09/2006, 13:10pm BST
Billie's Mag Fury
Billie Piper has admitted she got violently jealous of her replacement as Dr Who's sidekick, Freema Agyeman.
The actress, who played Tardis traveller Rose Tyler, says she threw a tantrum when she saw Freema, who plays Martha, on the cover of the Doctor Who fan magazine.
Billie, 23, said: "I hurled it across the room. I wanted to scratch her eyes out
"Seeing Freema as the new assistant was like seeing your ex's new girlfriend."
Billie, GQ mag's Woman Of The Year, played Rose alongside Christopher Eccleston and David Tennant's Doctor for 27 episodes.
She has the star role in an adaptation of Jane Austen's Mansfield Park.
Site Update!
07/09/2006, 07:36am BST
New Wallpapers!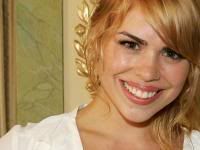 Above are a couple of new wallpapers of Billie from recent award ceremonies.
The first one is from the GQ Awards were she won Woman Of The Year. The second one is from the TV Quick Awards were she was named Best Actress.
Site Update!
06/09/2006, 16:09pm BST
Billie Named Woman Of The Year At GQ Awards!
Another night, another award for Billie! She was named GQ's Woman Of The Year at the glittering celeb bash held at the Royal Opera House in London last night.
Sir Paul McCartney was named Man Of The Year.
Billie Liar!
Billie admitted that she had to lie to Doctor Who fans about staying on for a third series in order to keep the series finale under wraps.
She told ITV News at the TV Choice Awards: "I know, I'm a liar! I'm a liar! I wanted to protect the final episode. I thought it was worth waiting for and...you have to be patient. I like a surprise."
It's ok Billie we forgive you!
Series Two DVD Details
2Entertain have announced full details of the upcoming Doctor Who: The Complete Series Two DVD Box Set.
The six-disc release will feature all 13 episodes from Series Two, the 2005 Christmas Special and over four hours of extras, including:
Out-takes
Deleted scenes
Audio Commentary available on nine episodes, with In Vision commentary available on five episodes - featuring cast and crew including David Tennant and Billie Piper
13 Doctor Who Confidential Episodes (edited versions)
5.1 sound
David's Video Diaries
Billie's Video Diary
Children in Need special
Audio description and subtitles available on each episode
The set, released on 20th November 2006, comes in lenticular packaging that features a special moving image on both front and back.
Site Update!
05/09/2006, 12:56pm BST
Award Triumph For Who!
Doctor Who added to it's award collection at last night's TV Quick Awards, when Billie Piper picked up the award for Best Actress for her role as Rose Tyler, her co star David Tennant picked up the award for Best Actor for his part as the Doctor and the show won Best Drama!
Billie told The Sun that she was thrilled with her award, but nervous as to whether she had made the right decision by quitting the show, 'It could be the worst decision I've ever made in my life.'
She added that she thought her replacement Freema Agyeman would be a huge draw for viewers.
Billie On The Box
Here in the UK BBC Three will start repeating Series One starting with a double bill of Rose and The End Of The World on Wednesday 6th September. There will be an episode or two a night, please check
The Diary
for more details on show times etc.
Also in the UK CBBC will be repeating Totally Doctor Who starting on Sunday 10th September at 17:00pm.
Meanwhile the Doctor meets up with old friends, Sarah Jane and K9 as School Reunion will be showing on ATV World in Hong Kong tonight.
A meeting with Queen Victoria is on the cards as Tooth and Claw shows on French speaking channel Ztele in Canada on Tuesday 5th September.
In New Zealand Thursday 7th September sees the first showing of The Satan Pit, the Doctor is facing the ultimate enemy, can he defeat the Beast and save the universe?
And on Saturday 9th September Australian fans can catch up on the action as ABC also shows The Satan Pit!