Site Updates!
28/12/2006, 20:08pm GMT
Gallery Updates!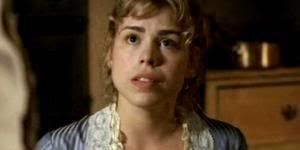 Lots of new photos have been added to the Image Archive including some screen caps from last nights fantastic The Ruby In The Smoke!
Treats Comes To The West End In February
Billie Piper, former pop star and assistant to Dr Who, makes her West End debut in Christopher Hampton's Treats when it opens at the Garrick on 28 February (previews from 20 February). The actress stars alongside another couple of television favourites, Kris Marshall and Laurence Fox, in Hampton's darkly comic relationship drama, which is directed by Laurence Boswell.
Piper originally found fame as a teenage pop star with hits such as Because We Want To taking her to the top of the charts. Following marriage to DJ/producer Chris Evans she returned to her first love, acting, starring first in the BBC's adaptation of The Canterbury Tales before winning the coveted role of Dr's assistant Rose in Dr Who. The role saw her win the National Television Award for Most Popular Actress on two successive occasions. Her more recent projects include The Ruby In The Smoke for the BBC and Mansfield Park for ITV.
Marshall is best known as bumbling son to Robert Lindsay and ZoŽ Wanamaker in BBC sitcom My Family. His other television appearances include My Life In Film and Murder City, while on the big screen he has starred in The Merchant Of Venice and Love Actually. Fox stars as Kevin Whatley's sidekick in Lewis and has also appeared in the films Gosford Park and The Hole.
Hampton has had great success during his career, both writing for the stage and the screen. His plays include The Philanthropist, Savages, Total Eclipse and Les Liaisons Dangereuses, which he adapted for the big screen as Dangerous Liaisons. Director Boswell's credits include A Day In The Death Of Joe Egg, This Is Our Youth, Popcorn and Up For Grabs.
The production is produced by Bill Kenwright and will tour to Windsor, Malvern, Bath and Richmond before coming to the West End.
Vote Billie As Swindon Advertsier Person Of The Year!
Billie has been nominated for the Swindon Advertiser Person Of The Year award.
They say: Billie Piper has gone from a teen pop sensation to a respected actress and her stock shows no signs of falling.
In spite of her meteoric rise, and it is hard to remember she is still only 24, she has not forgotten her roots in Swindon.
When some of her fans felt neglected earlier this year following a book signing at the Orbital Shopping Park, in North Swindon, the Doctor Who star vowed to make it up to them. And she did with a return visit earlier this month.
To vote for Billie phone 0901 221 0322
For further details click
here!
Site Updates!
21/12/2006, 19:36pm GMT
Merry Christmas From Billie-Piper.net
We would like to wish all our visitors a very merry Christmas!
Don't forget to watch Billie in The Ruby In The Smoke on Wednesday 27th December at 20:30pm on BBC One!
Second Part Of The Sun Interview
The second part of Billie's interview with The Sun can be read
here
.
In it she talks about her decision to leave Doctor Who and what she thinks of her co star David Tennant.
Site Updates!
20/12/2006, 17:39pm GMT
Billie In The Sun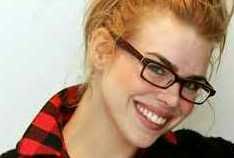 There is an excluisve double page interview with Billie in today's issue of The Sun. Click
here
to read it!
She Will Be Missed
At the press preview of The Runaway Bride David Tennant and Russell T Davies spoke of how the Doctor will cope without Rose.
The Christmas Day episode will be the first one without Billie Piper as Rose Tyler, "The Doctor losing Rose was a really big moment for him and it would be a bit wrong if we just came back and said he's fine now, we've forgotten about that, so he's still feeling it." said David, with Russell adding "He's heartbroken. He's absolutely devastated because the love of his life has disappeared, but at the same time I don't want to give viewers on Christmas Day an hour's worth of weeping."
Site Updates!
17/12/2006, 16:06pm GMT
Glamour Magazine
Yet another fabulous and revealing interview with Ms Piper appears in Glamour (Jan 2007 - Out Now). Read the interview
here
and and view the sultry photo shoot in our Image Archive
here
.
The Christmas Invasion
Don't forget that last year's Christmas Doctor Who special, The Christmas Invasion, is repeated today on BBC One at 16:25pm!
Site Updates!
16/12/2006, 20:51pm GMT
The Weekend Guardian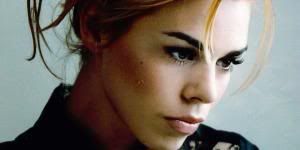 There is a fabulous interview and photo shoot in today's Weekend Guardian Magazine.
Billie 'I Miss Who'
Alot of the press are covering the fact that Billie is missing life on the Doctor Who set:
"I still desperately miss Rose and everyone at Doctor Who.
"I'm jealous that I'm no longer part of it and I'm trying to keep the green-eyed monster at bay, but on the whole it felt like the right thing to do.
"I'd done two series, and each one takes nine months to shoot. I got so close to everybody that I thought if I didn't ever leave I'd be too scared to ever go, and I'd get complacent."
BBC Ruby Site
The BBC have made a fantastic site for The Ruby In The Smoke, it has interviews, facts and much more! Visit it here.
Who Repeats For New Zealand
Prime TV in New Zealand will be repeating Series 1 of Doctor Who, starring Christopher Eccleston and Billie Piper, from Monday 18th December from 19:30pm.
Site Updates!
13/12/2006, 08:23am GMT
Billie On The New Paul O'Grady Show Today!
Billie wil be appearing on The New Paul O'Grady show this evening at 17:00pm on Channel 4!
Ruby In The Smoke Scans!
Lots of new articles and interviews with Billie about her latest project, The Ruby In The Smoke have been added
here
.
And we have added loads of new promo pics from it
here
.
New Billie Book Signing In Swindon This Weekend!
Billie is returning to her hometown of Swindon to do a further book signing this weekend. She will be in Borders Book Shop at the Orbital Retail Park between 13:00pm and 15:00pm.
If you want further details of this signing please contact the store.
Billie Says Don't Be A Zero!
An interview with fashion mag Glamour has had Billie in the press all week after she told them that she feels that Victoria Beckham is a bad role model for young girls:
"I think the whole size zero debate is disgusting.
Some models you see are tiny because that's the way they were born, but then they'll get the attention and that will start feeding a fire."
Billie said: "My little sister loves Posh and I say 'Come on Ellie, she's tiny. What's wrong with Shakira? She's sexy, curvy. But she has no interest."
Billie admitted that she is worried that her own anorexia would return.
The last time she suffered was after her split with Chris Evans.She explained: "It's a constant worry, but it's not a continual struggle any more. For me, the danger is when my life gets out of control.
"It's the first thing I think about. When I broke up with Chris I had it for a moment but I was able to nip it in the bud."
Actress Kate Winslett also joined the debate, agreeing with Billie and saying that she has banned her young daughter from looking at stick thin clebs in magazines.
Festive Holiday For Doctor Who On CBS
Doctor Who is to take a short holiday from CBS in Canada reurning on Monday January 15th 2007 at 22:00pm with the episode The Satan Pit.
US Get Series Finale
Fans in the US will get a double bill series finale, featuring Army Of Ghosts and Doomsday showing on the Sci Fi Channel fronm 22:00pm on 22nd December 2006.
Site Updates!
05/12/2006, 18:57pm GMT
The Ruby In The Smoke Preview
The above caps come from the new BBC Christmas advert and show an exclusive peek at what's in store in The Ruby In The Smoke!
Richard & Judy's Christmas Book Special
In this glitzy seasonal special, Richard and Judy provide a guide to the best books on offer for all the family this Christmas. Featuring interviews with specially selected celebrity authors Billie Piper, Rupert Everett, Gordon Ramsay, Michael Palin and Matt Lucas and David Walliams. Also joining in the fun are Ricky Gervais, Trinny and Susannah and Jamie Oliver.
Saturday 9th December 18:45pm Channel 4.
The BBC Drama Awards
Don't forget to cast your vote in the 2006 BBC Drama Awards. The catergories include Best Actress, Best Drama, Best Moment and Best Website.
You can vote for Billie in the Best Actress Catergory, Doctor Who in the Best Drama catergory, your fave Doctor Who Moment in Best Moment and we wouldn't like to hint at who you could vote for in the Best Website catergory..... *cough*
The results will be revealed on 15th January so get voting!
Site Updates!
01/12/2006, 17:29pm GMT
Billie Made Who Appeal To Girls!
Catherine Tate, who stars in the Doctor Who Christmas Special, has revealed that she thinks that it was Billie's presence in the show that really made it appeal to girls.
She told the Daily Record: "The way Doctor Who has taken off is just fantastic. And I think Billie is a big part of getting young girls on board as well, because they all kind of idolise the Rose character."
In fairness we think David Tennant might also be responsible for a few girlie fans...
See Billie In Treats At The Malvern Theatre
Treats will be playing at The Malvern Theatre in the Malvern Hills from 29th January 2007 - 3rd February 2007.
Tickets can be booked online via their website