Site Updates!
26/03/2007, 17:52pm GMT
Vote Billie In FHM
Click to vote!
The FHM 100 Sexiest Woman in the World 2007 competition is up and running with the votes coming in thick and fast. Billie is one of their featured ladies and you could help her get the recognition she deserves by voting for her! To cast your vote simply click on the button above! Many thanks to the FHM Team.
Visit the FHM website here.
The Calcium Kid
The Calcium Kid will be shown on Comedy Central on Friday 30th March at 20:00pm.
Site Updates!
25/03/2007, 21:33pm GMT
Mansfield Park Caps
The rest of the Mansfield Park caps are now all up on the site, so make sure you take a good look at those :) Click
here
to view them.
Site Updates!
23/03/2007, 15:13pm GMT
CD Art Work
Thanks to Nancy Hutchins we have been able to add the art work and promotional posters from Billie's CD singles to the Image Archive, to see them click
here
.
There also some pics of Billie out and about there and the rest of the Mansfield Park caps will all be uploaded over the weekend :)
Site Updates!
19/03/2007, 21:08pm GMT
Mansfield Park Caps - Part 1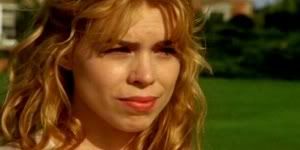 We have started uploading caps of Billie in the fabulous Mansfield Park. There are 100 online now and we will be adding the rest over the next few days. Click here to see
them
!
Mansfield Park Is A Ratings Winner!
Mansfield Park was watched by 5.9 million viewers across the UK last night and was the highest watched progamme in it's time slot.
Site Updates!
17/03/2007, 18:17pm GMT
Mansfield Park Tonight
Don't forget that Billie is appearing as Fanny Price in Mansfield Park on ITV1 at 21:00pm tonight!
And there will be a Behind The Scenes look at the making of the drama on ITV2 on Sunday 1st April at 23:00pm.
To find out more on all Billie's TV, Radio and appearances check
the diary
.
New Interviews
There's plenty of Billie in the press at the moment. Catch up with some fabulous interviews:
Site Updates!
16/03/2007, 18:10pm GMT
Billie's Walk In The Park
Billie has been talking to the Manchester Evening News about her latest role as Fanny Price in Mansfield Park.
Read the full article
here
.
The Satan Pit Script Up For Auction
Many thanks to David-Tennant.com for letting us know about an auction for David Tennant's 'The Satan Pit' script. The script has been signed by Billie as well as David and Russell T Davies and is an amazing item for any collector of Doctor Who memrobilia. The full deatils of the the auction are:
David's personal script from the Doctor Who series 2 episode, The Satan Pit, is going to auction on Wednesday 28th March. It has been signed by David, Billie Piper and Russell T Davies and all proceeds will go to charity (the PTA of David's Godson's primary school). The auction will take place at the John Nicholson Auction Rooms in Surrey.
There is a reserve price of £1,000 on this item. The lot number is 421 and it is expected to appear at approx 12:00pm to 12:30pm
Members of the public are invited to attend and bid.
Details of the Auctioneer are as follows:
John Nicholson Auctioneers
The Auction Rooms,
Longfield,
Midhurst Road,
Fernhurst,
Haslemere,
Surrey.
GU27 3HA
Site Updates!
14/03/2007, 18:58pm GMT
ITV 2 Gives Belle de Jour The Green Light
Billie Piper will star as the London call girl Belle de Jour in a television adaptation of the book, in one of ITV2's first major drama commissions.
The eight-part series, based on the popular diary of the anonymous sex worker, was originally meant for Channel 4 but the broadcaster turned it down.
ITV director of television Simon Shaps said that the move was part of a programming strategy to get more drama on ITV2. It will be made by independent producers Tiger Aspect and Silver Apples and talent agency Artists Rights Group.
The network is also planning to broadcast a new drama about a journalist working in Iraq, based on the experiences of reporter Audrey Gillan when she was embedded with British troops during the invasion during 2003.
The film is being made by independent production company Tightrope, founded by Shameless creator Paul Abbott and Bafta chair Hilary Bevan Jones.
Top Gear Caps
I have finally uploaded some caps from last Sunday's Top Gear! They can be found in the Image Archive
here
.
Site Updates!
13/03/2007, 12:02pm GMT
Mansfield Park Pics
We have some new photos of Billie in Mansfield Park. Many Thanks to ITV. Click
here
to see them.
Mansfield Park is on ITV1 at 21:00pm on Sunday 18th March.
Treats Tickets Competition
WhatsOnStage.com are currently running a competition to win tickets to see Treats at The Garrick Theatre in London.
Site Updates!
12/03/2007, 19:04pm GMT
Billie In The Evening Standard
Today's Evening Standard has a lengthy interview with Billie in which she talks about her stage debut in Treats and whether she plans to head for Hollywood in the near future.
Site Updates!
11/03/2007, 16:51pm GMT
Treats Press Reviews
Read all the latest reviews on Treats Press Night at The Garrick Theatre in London
here
.
Click
here
to view a video of the opening night build up courtesy of WhatsOnStage.com
Ticket Treat For Billie Piper Fans
Bosses of Billie's play Treats have vowed to give fans of Billie another ticket if she does not appear on stage when they go to see her.
They told The Times "If for any reason Billie is unable to make it on stage again, and anyone had come to see her in particular and was therefore unhappy, we would offer them tickets for another performance in which Billie is appearing."
Billie Sets Her Sights On The Royal Court
Billie tells What's On Stage Magazine that she would love to appear on The Royal Court. She says: "I would like to do more theatre, especially at the Royal Court. I'd like to do some young writer's stuff because I find it really inspiring that young kids have these thoughts in their heads and then put them on paper and turn them into beautiful plays. I've seen loads of stuff at the Court, and it blows my mind every time."
Billie's Dutch Courage Gets Rid Of Stage Fright
Billie Piper had to down shots of alcohol before her performance on stage - because she was so terrified.
The actress said she was suffering from severe nerves before performing in play Treats at London's Garrick Theatre.
She said: "I was so terrified I had to go to the pub and down some shots. I'm just relieved tonight's over."
Piper and her boyfriend and co-star Laurence Fox refused to comment on reports that they're engaged and that Billie's expecting a baby.
But the couple, who have been together for a few months, did seem more loved up than ever, as Laurence said: "I don't believe in fate but I do believe we get what we pray for.
"And I couldn't have prayed for more than Billie. My family all love her, she's become a major part of my life and I don't think I could find a better girlfriend."
Billie, who split from first hubby Chris Evans in 2004, also couldn't hide her love for Laurence.
She said: "I am so happy right now, this play has had a serious effect on me.
"I've been so drained doing this role, I find it very emotional. It's not fun having to cry every night on stage.
"I have to abuse Laurence in the play and that upsets me, I would never be able to say those things in real life."
Indeed, the 24-year-old actress was in tears while taking her bow at the Garrick Theatre last night. She said: "I can't get over how terrifying it is on stage every night compared to anything else."
Laurence said he also found it hard having a girlfriend in the public eye. "I've never been in this situation before. It's all new to me and I hate the fact she's so scrutinised. All I want to do is protect her," he said.
According to Billie, her ex-hubby Chris Evans also had a tough time watching the play.
She said: "Chris told me it was so horrible watching me so upset. He's seen me cry like that in different situations, but on stage it was different.
"He told me he could never watch the show again."
Source: ThisIsLondon.co.uk
Site Updates!
04/03/2007, 17:18pm GMT
Exclusive Treats Q&A With Billie
Whatsonstage.com have an exclusive offer to see Treats at The Garrick Theatre and take part in a Q&A session with the actors. They say:
Doctor Who's star Billie Piper makes her West End debut in Christopher Hampton's darkly comic three-hander, in which two very different men, played by Kris Marshall & Laurence Fox, vie for her affections. Come with us on 12 April 2007 & get a top-price ticket plus access to our EXCLUSIVE post-show Q&A with the show's stars - all for just £25!
Exclusively as part of the Whatsonstage.com Group, you'll get a top-price ticket in the Stalls or Dress Circle to TREATS and access to our EXCLUSIVE post-show Q&A with Billie Piper, Laurence Fox & Kris Marshall!!!* - plus, of course, all the usual mixing and mingling opportunities with other theatregoers! That's all for £25! (Normally priced up to £45 for ticket alone.)
This Outing package is exclusive to members of our Group for the 8.00pm performance on Thursday 12 April 2007 at the Garrick Theatre, 2 Charing Cross Road, London WC2H 0HH
Listen Again
Billie was a guest on Micheal Parkinson's Radio Two Sunday Supplement this morning. She chatted about Treats, her time on Doctor Who and her stage school days. You can listen to the show again via the BBC's listen again feature here.