February 2006

Aliens And Enemies!
17/02/2006, 17:54pm GMT
Click to enlarge pic!
The Official Doctor Who site has released details of another new Doctor Who book, this time featuring the evil monsters that the Tenth Doctor and Rose will encounter in the new series. They say:
This fully illustrated guide to the Doctor's evil foes picks up where 2005's Monsters and Villains book left off. Expect to see baddies like the Sycorax, the Gelth and Reapers within its pages.As well as recent menaces to mankind, Aliens and Enemies also includes classic foes like the Cybermen, Sutekh and the Zarbi. Facts, figures and images of each monster feature alongside a synopsis of the episodes they appeared in. Plus, behind-the-scenes information gives insights into how these monsters were created and brought to life.Doctor Who: Aliens and Enemies will be published on 18 May 2006.
Site Updates!
17/02/2006, 16:52pm GMT
I've added loads of new interviews, which were very kindly sent in by Jamie,
here
. I've also added new photos
here
.
New Magazine!
16/02/2006, 19:16pm GMT
Click a pic to enlarge!
The new issue of New magazine has the above article and photos from the set of The Idiot's Lantern, it's Issue 151 and is out now priced at just 60p!
New Doctor Who Books!
15/2/2006, 16:35pm GMT
Click a pic to enlarge!
Two brand new Doctor Who activity books will be released on 25th May to coincide with the new BBC Series. One will be a sticker book, with pics of your fave characters and one will be a puzzle book with codes to crack and will include 50 press out character cards. Both will cost £3.99. You can pre order them at
www.amazon.co.uk
Art Attack!
15/02/2006, 15:45pm GMT
Some art work created by Billie will be up for auction alongside a host of other creative celebrity memrobilia at The Europa in Ireland on 28th April. For more details on the charity auction click
here
.
Photos Update!
13/02/2006, 18:13pm GMT
I have added some screencaps of Billie from the first Doctor Who episode 'Rose'
here
.
Doctor Who Casting Update!
13/02/2006, 15:38pm GMT
There's another celeb face joining the new series of Doctor Who. Daytime TV host Trisha Goddard will play herself in the supernatural episode, 'The Army Of Ghosts'. The Doctor will discover that the Earth is overrun with ghosts before stumbling upon a recording of the Trisha show. A Doctor Who insider told today's Daily Mirror: 'The episode of Trisha is called I'm In Love With A Ghost and Trisha asks Can you trust him? Is he always disappearing?, It's hilarious.'
Most Haunted Psychic Derek Acorah will also be in the episode playing himself, he recently told the Liverpool Echo that he filmed his part in Cardiff before Christmas. He also added that David and Billie had asked for readings and had since phoned him to say that some of the things he predicted for them have already happened! Spooky!
Things To Do Before You're 30 Update!
12/02/2006, 16:41pm GMT
According to today's News Of The World, Billie's latest movie, Things To Do Before You're 30, will be released in the UK in June. We'll have more details soon.
Doc And Roll!
11/02/2006, 14:37pm GMT
Click to read!
Today's Daily Star continues their coverage of the filming in Cardiff. Today they have pics of David and Billie learning to Jive!
Welcome To Billie-Piper.net!
11/02/2006, 13:58pm GMT
Welcome to the brand new Billie Piper site billie-piper.net
We aim to bring you all the latest Billie new, pics and much, much more!
Make sure you register with our
forum
to chat to other Billie Piper fans!
Doctor Who On Set!
09/02/2006, 15:09pm GMT
There's a lot of press coverage surrounding the filming of The Idiot's Lantern in Cardiff at the moment, below are some articles and photos covering the story:
Click a pic to enlarge!
The Daily Star and The Sun have both run articles about filming today: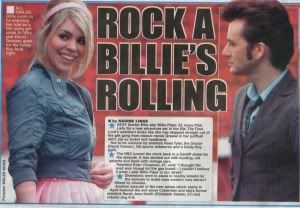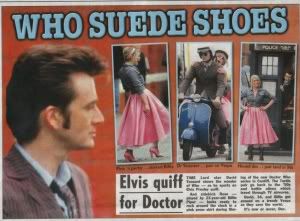 Click to read!
Meanwhile ICWales and the South Wales Echo are also reporting:
RESIDENTS of a city street were faced with a blast from the past when they opened their curtains to see Doctor Who being filmed outside.
Florentia Street, in Cathays, Cardiff, has been decked out with bunting and turned into a scene from the 1950s.Vintage cars were parked on the street and on a wall was an old advert for HP sauce.
Curious passers-by were amazed to see the television series stars Billie Piper and David Tennant and the Tardis itself made an appearance.
Evan Chapman, 39, of nearby Tewkesbury Street, who works at the National Museum and Gallery, said: "I didn't know what was happening so I came down for a look.
"I'm surprised to see all the bunting, I'd presumed the road was closed for the gas board.
"It will be curious to see the area on television."
Gareth Jones, 28, from Llanedeyrn, said: "It's all good fun - although it does look a bit strange."
Florentia Street, which was changed to the fictional Florizel Street, and parts of adjoining Monthermer Road, have been closed to traffic while the filming, due to finish tomorrow, takes place.
Diversions have been arranged and traffic is being made to stop for a minute at a time so modern vehicles don't get filmed.