Harry Potter And The Goblet Of Fire Premiere
Date: Sunday 6th November 2005
Venue: The Odeon, Leicester Square, London
Team Tennant Members In Attendance: Sue, Lynn, Judith, Janet, Jack, Cally, Ruth and Jayne.
Well firstly we didn't manage to get that close to Mr Tennant!
I think that these photos illustrate it perfectly:
Photo A: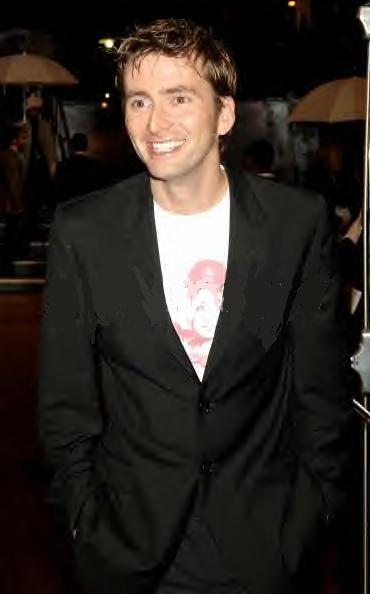 A snap of what the press got to see.
Photo B:
A snap of what Team Tennant got to see (and that was the lucky ones!)
Anyway I know that we all suffered our own individual tortures on Sunday, mine being a chubby child with a lollipop stuck to his face that stood on my toe for two hours and who I shall never forget, mainly because he is the cause of my impeded walk.
I arrived late around 4:00pm, I'd been stuck at a lunch with my new inlaws in Covent Garden and had to race to get there in time.
As I suspected by the time I showed up the place was swarming with people and there was no chance that I was going to be able to get anywhere near the front. I tried to text my fellow TT member Judith, but later realised I'd copied her number down wrong, I came to this conclusion whilst on my journey home when I recieved a text telling me to 'stop ****ing texting' This could have been Judith of course but she assures me it was not ;)
Anyway back to the matter in hand, David's arrival was met with loud cheers from the crowd, I managed to glimpse him in the distance and grappled for my camera in my bag, whilst being elbowed by 'chubby lollipop kid' all the while, the photo is a blur of the top of David's head obscured by some umbrellas, lot's of other people's heads, and the corner of that child's robust cheeks! He went right over to the other side of the crowd in a divine piece of what I believe is called 'Sod's Law!' He then heard people shouting him (this turned out to be Team Tennant) on our side of the crowd, shrugged apoletically and was ushered inside. The girls all wore fabulous T Shirts designed by our competition winner Ruth and had planned to give David a Team Tennant Teddy and a card which unfortchunately they couldn't get to him. And that was basically that. Oh and we all got wet...very wet. But apart from that I had a good time, the atmosphere in the crowd was amazing and I did get to see a few other celebs, like Madonna, Emma Watson and Dan Radcliffe so it wasn't all bad!
You can read more accounts from the other Team Tennant members
here
.
If anyone else wants to send a report please send it to
Some pics of Team Tennant at the Premiere
Many thanks to Sue, Ruth and Judith for the photos.
David At The Premiere