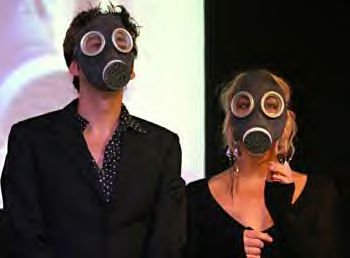 Well, I've been at home for almost two hours now so it's about time I post that report I promised.
IT. WAS. FANTASTIC. Easily one of the best nights of my life, maybe even THE best.
I arrived in Cardiff at about 2:30pm on Friday afternoon and took a cab from the bus station straight to the hostel. I checked in, settled my stuff in my room (which was the size of a hole and FREEZING cold and only had a set of bunkbeds and two chairs in it) and rested for a bit. Then, hungry because I hadn't eaten since breakfast at about 6:00am that morning, I went around in search of a shop and found a food store so I got some crisps and chocolate and smuggled them back to the hostel. Then I just hung around the room listening to my walkman and reading, which was very boring. At about 6:30pm I began getting ready and left the hostel in a taxi at around 6:45. Arrived at Holland House at about 7:00 and had to wait in the lobby before we could sign in...after about half an hour after I turned up, David (who was in a suit with his first few shirt buttons undone and looked delicious) and Billie (who wore a black mini dress and some black boots and looked beautiful) arrived together through the main entrance and walked right passed the small crowd (me and about eight others) who were there, and they said a quick hello to us as they walked by.
Ar 7:30 we all got signed in, I had to show my ticket and then was let into the bar area, where there were no chairs at all which really pissed me off because the Shoes From Hell were already killing me. Hung around there watching other people drink for about half an hour and I checked out the guest list to see what table I was on. All the tables were named after characters from the show. I was on the Anne-Driods table, which I liked because I loved the Anne Driod in Bad Wolf. :p I had to hold back squeeing when I saw that Camille Coduri and Noel Clarke's names were on the guest list, as they had not been mentioned as being there so that was a very awesome surprise.
Finally, it was time to go inside and to my shock and delight, all the DW cast and crew had lined themselves up and were greeting the guests. I shook hands with Billie, David, Camille and Noel and they were all absoloutely lovely and charming, all saying hello and that it was nice to meet me. I told Billie that I loved her dress and just managed to say hello back to David, and returned Noel and Camille's greetings...they were so nice and sweet it was amazing. They shook hands and greeted every guest and there were at least a couple of hundred people there so I think it was bloody awesome of them to do that.
Then we all began to get ourselves seated and imagine my amazement when I saw that my table was DIRECTLY BEHIND BILLIE AND DAVID'S. OMFG. I not only had a perfect view of the stage but I was sitting back to back with Russell and Billie and David (who were sitting next to each other in that order)! It was so great and made the evening even more intimate, I have never been more chuffed. I didn't even mind that I had to breathe in Billie's cigarette smoke all evening, hehe.
The guy who introduced the evening opened by saying about where people had come from, to show that the DW fangroup was so world wide, and he mentioned me when he listed Folkestone as one of the places, so I did a little wave and clap thing and got smiles and looks from the Time Lord table which was neat. :p There were also two guys who had come all the way from Canada and they got lots of claps and cheers, aw.
The food came, and it was crap but I didn't care, I hadn't gone for the food and didn't seem to be the only one who wasn't entirely keen on it. I did eat the stake and the little bit of mashed potato though, that was kind of nice, but the rest was pretty yucky. I am a fussy eater though, so I don't blame the chef! The wine was nice though, they had some free bottles on our table so I had a glass of white wine with my meal, but not more because I didn't really want to get drunk!
The first thing they did was the Q&A session. Mine wasn't chosen to be asked, but I didn't give a fuck because I'd already met the cast/crew and was sititng right next to them the whole night anyway. :D It was good though, and David said "fuck" as he answered a question that was asking about DW and Casanova, and got jokingly told off by Russell because there was a seven year old girl in the audience, LOL, but Russell swore later on, and Billie said "arse" at one point so I don't think anyone cared really. :p
After the Q&A there was a raffle for people who had donated to CIN...they had envelopes at our places and we could put money in if we wanted...I was going to give a fiver but I only had money in coins and they weren't getting my £20 so I didn't put anything in in the end. I figured they got a donation from me in my ticket fee anyhow.
Then there was the auction, and crap Russell is so hilarious. Most of the stuff fetched $1000 plus, since it was mostly props from the show. Two gas masks used in "The Empty Child" were auctioned and David and Billie modelled them and were so funny, making little kissing motions at each other. Actually, David and Billie seem really close, they were very touchy feely and giggly and seemed so comfortable with each other, they were adorable.
After the auction I noticed people were approching the Time Lords table to get autograph's and pics so since I was right next to it I did the same...I went to David first and asked him to autograph my DWM that I'd brought with me. He was so lovely, asked where I wanted the sig and wrote "To Charlie, Love David Tennant"...I told him that I thought he was going to make a brilliant Doctor and that I couldn't wait to see the new series, and he seemed geniunly happy/pleased and thanked me for the compliments. I also told him that I love the costume and he "It's not bad, is it?" He was so cool, and I love him even more which I didn't think was possible. :p Then I went to Billie, who I didn't notice was already signing for someone else when I asked her but she was cool about it and asked to borrow my pen (like you'd say no, LOL!) because the guy's she was signing for wasn't working, so I gave it to her and when she'd finished his, she signed mine. I've heard reports of Billie being a bit off and snubish towards fans but I struggle to believe it after meeting her, since she was a real diamond. After that I tried to get Camille and Noel's autograph's but some bouncer or security guy had decided that was enough for now and moved me on...I wasn't too annoyed since I already met them, and at least I got David and Billie's, which was the main thing.
The evening ended by Lisa from Steps singing a couple of her songs and she was surprisingly good. She didn't sound like she was singing live though, but it was still good. During that time I managed to corner Russell and got his autograph as well and he asked if I'd had a nice time, thanked me for coming, apologised for the swearing! He was really nice too, and I thanked him for the event. And as I was getting up to leaving David turned round and smiled at me...so I actually got acknowledged by David four times that night and three by Billie - WOW.
It was all over by midnight. I got the guy at the hotel lobby desk to call a cab for me (and he was really nice, too) and then got back to the hostel, where I wrote this all down in my notebook so it was all completely fresh in my mind. Then I went to sleep on the world's most uncomfortable matress and woke up multipule times during the night freezing cold and with the most painful ache in my arm joints.
Got up at about 8:30am this morning, got dressed, took the bedsheet downstairs and put it in the landury basket (one of the rules) and then checked out. Discovered that Cardiff Bay was only a few minutes away by cab so I went there and did a bit of DW location spotting - saw the Oval Basin and that little restaurant they filmed in. Then got some breakfast in a cafe, had some toast and water. Then got a taxi back to the bus station, where I waited for over an hour. I slept for about half of the coach ride back to London was uneventful apart from when we got stuck in traffic in London for about half an hour, which was horribly boring and frustrating. We did pass the real Police Public Call Box in Earls Court on the way though, which was cool! Got to Victoria eventually, though, where I got a cab to Charing Cross and then a train home.
Now, I am just very very tired (but still pumped with adrenaline - it's amazing how long you can go without sleep when you're excited) but still thrilled and giddy. The evening went better than I could have imagined in my wildest fantasties, it was really perfect. I even got some goodies to take home - got a free TARDIS (oh, and they had the real DW TARDIS in the dining room, btw, awesome, and a Dalek!)phone flasher, a TARDIS keychain, a copy of the latest DWM, a Dalek postcard, and some kind of Dalek computer game CDRom thing in a big Children In Need goodie bag package. And, there were forms on the tables to fill out if you wanted a Christmas card personally signed by David and Billie for this christmas, so I filled that out and will be getting their autograph's again. Awesomeness. :p
I'm so thrilled I went, it was worth every penny and every moment was ridiculously wonderful. I'll be high about this for a while, I think. And watching the Chrismtas Invasion and Season 2 of DW will be very weird now! :p