Billie Meets Her Fans!
If you have been lucky enough to meet Billie and have your photo taken with her, why not send it in to us and we will display them on the site!!
Send photos in an email marked 'Yes I Met Billie!' to
Below are some pics of fans who have met Billie! Click on the pics to view them larger.
Many thanks to everyone who has contributed to this page!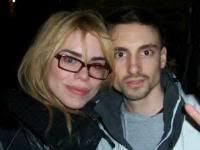 Ulrich Decoster travelled over from Paris with some friends to see Billie in Treats at the Theatre Royal in Windsor. He was lucky enough to meet her after the show. 'She was lovely, we are brand new fans of Doctor Who and love Billie.'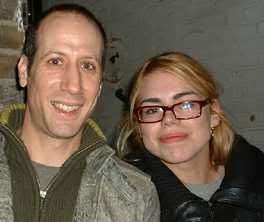 Peter also met Billie in Windsor!
Amelia Caffrey was lucky enough to meet Billie in the Malvern Hills and get a great pic of her on stage too!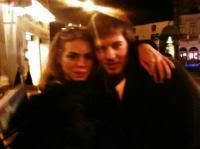 Mark Sellick met Billie in Bath.
'After signing programme, me and my mate walked away, and Billie caught us up, was about to walk past us when i cheekily said out loud "is it too late for a photo" tee hee... she was really nice, not many ppl about so had a little chat... said how good treats was, how its nice to see something different in theatre, and wished her luck for the rest of the run in bath and in london!'
Lawrie Medina says: 'I saw Billie at the best show I'd ever seen, Treats, She is really sweet and she's got the nicest smile aswell! - I Love Her!'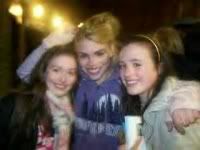 Jessie and Jenny met Billie after the show:
'Me (Jessie) & my friend jenny waited for Billie after the show at the
garrick, london. Billie came over to us & spent ages talking to us,
signed our programmes & posed for a photo. She was so lovely!'
Poppy Biswell had a great birthday when she met Billie!
'I saw Treats on Saturday 19th May at the Garrick Theatre for my birthday!!! It was absolutely AMAZING when I met Billie afterwards!!!!!!!! After the performance I ran straight to the stage door and I was right at the front of the crowd so I got to meet her first! I got lots of photographs taken with her and she signed my copy of her fantastic autobiography 'Growing Pains'!!! Meeting Billie Piper was such an amazing experience and I've always dreamed of meeting her because she is such a huge inspiration to me!!!!! It was the best birthday treat ever and I will never ever forget it!!!